The prices of some of these wedding venues is astonishing to say the least. A lot of them sit in the 15k-20k range. You can pay off a brand new car for that!! Unless you have money coming out of your ears, I can't imagine that you'd want to spend that on just the venue for a day. Luckily for you, we've put together a list of affordable venues. Even if you don't use of one the listed, it will give you a great idea of where else to look.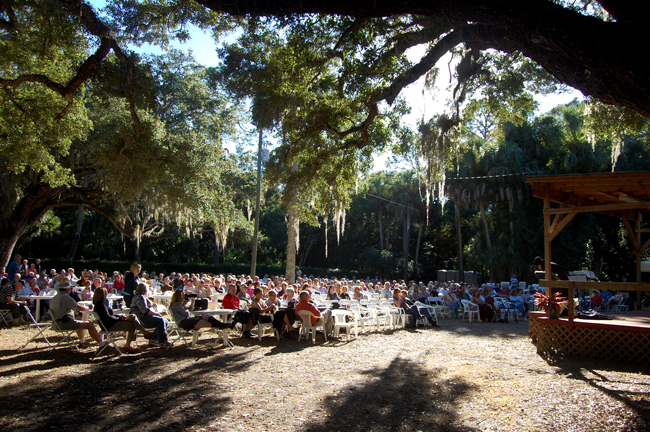 Looking for a beach location? St. Augustine is one of the oldest cities in America. If you've never been there, know that this is a city with charm. You'll find beautiful beaches, amazing restaurants, privately owned shops instead of chains, an adventure through history, some of the most beautiful buildings you've ever seen with Spanish influence and the friendliest of people. Bringing a furry friend? Not a problem! As you walk by stores, people will actually come out offering your pup all natural, gluten free snacks and water….especially on hot days! Your wedding party will not be disappointed about being in this lovely city. Of course there are expensive places to get married there, but there's a gorgeous place called Washing Oaks Gardens State Park. If you have more than 250 guests, you'd be charged $642. If you have under 25, it's only $107!! Check out the wedding agreement. If you'd like to rent the bridal party room to get ready, it's an additional $75.  You are responsible for chair rentals but even with a big party, you're looking at under $1000! Since alcohol isn't allowed in the park, I recommend relocating your party to another venue for your reception. If you have a smaller party of under 30, you could move to Love Tree Cottage for only $250. The White Room would be a great spot for larger parties.
If you're on the west coast, Mountain Terrace is a gorgeous, affordable wedding destination. You can get this rustic location in Woodside, California for under $1000. It has a 5 star rating on The Knot. Those who have reviewed Mountain Terrace say that it has a magical feel to it. Your wedding photos will have a breath taking backdrop and plenty of catering options! Once you've booked with them, you'll enjoy a free tasting of all that their menu's have to offer.
Whatever your heart desires, know that there is somewhere waiting for you within your budget. There are plenty of affordable options located in state parks across the United States. If you aren't a hiker and haven't seen there state parks in our beautiful country, know that we have many many amazing ones. Each harbors something unique from the others. A lot of the Georgia State Parks offer accommodations as well. Just be patient, do your research and you will find your dream wedding location.